Keeping it Real: Towards a Documentary Film Policy for the UK
---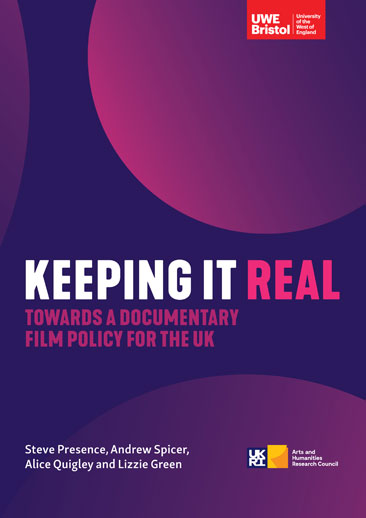 In 2019, we launched what became the largest survey ever conducted of UK feature doc producers and directors. Keeping it Real: Towards A Documentary Film Policy for the UK, is based on the survey findings and reveals a sector that was in urgent need of intervention even before the advent of COVID-19.
Consultation
The report and its 15 preliminary recommendations are intended to provide the basis for discussions during a 7-week consultation period following the report's publication (from 11 June to 31 July). We are inviting submissions of written feedback via the form below, hosting this event at Doc/Fest on June 25 and convening focus groups for July 16 (if you would like to participate in the focus groups, do let us know).
To coincide with the consultation, our friends at The Whickers have also released early a small selection of responses from their annual Cost of Docs survey that focus on the impact of COVID-19 on the sector – please take a look at these and bear them in mind as you read the report.
We urge you to participate in the consultation. The feedback we receive will be integrated into a set of policy proposals that will then be used as the basis for future talks with policymakers. Now is the time to imagine the kind of feature docs sector we need and how we might get there.
Please note: all feedback will be treated in the strictest confidence and will only be available in raw form to the research team at UWE.